Donal Skehan's Cowboy Beans on Toast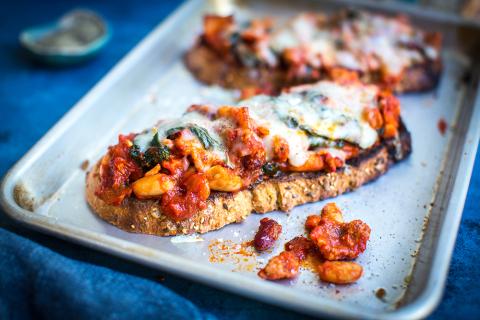 ingredients
4 slices of Hearty Grains & Seeds from The Rustik Oven
1 tbsp sunflower oil
1 onion, finely chopped
2 garlic cloves, minced
4 slices bacon, diced
½ lbs sausage
1 tsp smoked paprika
1 tsp dark brown sugar
1 tbsp Worcestershire sauce
2 cups passata
14 oz can mixed beans, drained and rinsed
2 cups kale, hard stalks removed
1/2 cup grated mozzarella
Sea salt
Freshly ground black pepper
directions
Heat one tablespoon of the oil in a large sauté pan over a low heat. Add the onion and sauté for 4-5 minutes until softened, stirring occasionally. Increase the heat to medium/high and add the garlic and bacon and fry until golden. Tip the sausage meat into the pan, breaking up with a wooden spoon to give you small pieces. Fry for another 5 minutes or until the sausage has picked up some color and is golden.
Preheat broiler to high.
Stir through the smoked paprika and brown sugar to coat the meat. Add the Worcestershire sauce and passata and simmer for 15-20 minutes until slightly thickened. Stir through the mixed beans and roughly tear the kale into the pan, allow to simmer for another 2-3 minutes until the beans have heated through and kale is wilted. Season with a little salt and fresh ground black pepper.
While the beans are cooking through, place the bread on a baking tray and then under the broiler for 30 seconds each side until golden. Top with the beans and mozzarella and place back under the broiler until golden and bubbling.
Sprinkle over a little black pepper and serve.